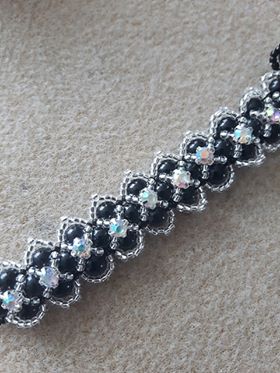 Great beginner project!
Wonderful Mother's Day gift.
In this workshop participants will learn to make a bracelet and matching earrings using the technique known as "RAW" - right angle weave.
Using pearls, crystal montees and Japanese seedbeads Toho size 11.0, you'll be guided through the project from start to finish.
The instructor Ivanka Krysa-Bodnar has years of experience working with beads and is eager to share her craft. Originally from Ukraine, now based in Toronto, she runs Gerdan Toronto, where she sells her creations and takes custom orders. "Gerdan Toronto is handmade Modern --Ukrainian style jewellery handmade with love." You can also find her on etsy.
Ages 12+
$60/$54 Folk Camp Canada members*
To register, email folkcanada@gmail.com.