WITH EMMA MANCHESTER

Learn the basics of natural dyeing over the course of this five day workshop, including learning how to prepare fibres for dyeing, how to mordant, and how to use modifiers to create variations of natural dye colours. We will work with an assortment of locally grown dyestuffs, as well as a few imported ones known for their high quality pigments and light fastness. Come away with several sample skeins of wool or silk in a range of colours for use in your embroidery or knitting projects. Limit 10 students.
WITH LARISSA RAPHAEL (NYC)

Make your own motanka doll, or lial'ka motanka! A motanka is not merely a toy but primarily serves as a talisman against evil and bad luck and preserves fertility and family prosperity. Always faceless, the dolls often have a thread cross on the face to symbolize the sun's energy. In this workshop, participants will learn about the rich symbolism and ritual functions of these dolls. Participants will craft their own dolls through the traditional no-needle winding method and can explore ways to incorporate natural materials, embroidery, and other traditional elements. Making a motanka is a deeply personal and powerful expression of intention and positive thoughts - as a result, each motanka doll carries her own energy and personality.
INTRO. TO BUTTON ACCORDION
WITH JOHN DAVID WILLIAMS

A workshop for beginners: instruments provided and no experience necessary! Get started on playing the diatonic button accordion (AKA melodeon). The workshop will progress from how to hold the instrument to learning some simple folk melodies, and how to play chords to accompany other musicians or to accompany yourself singing.
UKRAINIAN POLYPHONIC SINGING
WITH NADIA TARNAWSKA (OH)

Using folk songs from a variety of regions from Ukraine, Nadia will lead participants through a series of exercises to help them find a healthy way to produce their folk sound. In singing, the entire body is the instrument, so focus will be placed on accessing resonance throughout the body. In addition to healthy singing, the historical context of the songs will be presented as well as working with ornamentation and styles specific to the region and genre. Ability to read Cyrillic or musical notation is not required and all are welcome!
WITH ROK

Delve in to a week-long learning experience in the art of reshaping metal with fire, hammer and an anvil. Forging is an ancient art form and craft that combines all four elements that results in creating a structural and artistic items solely limited to one's imagination.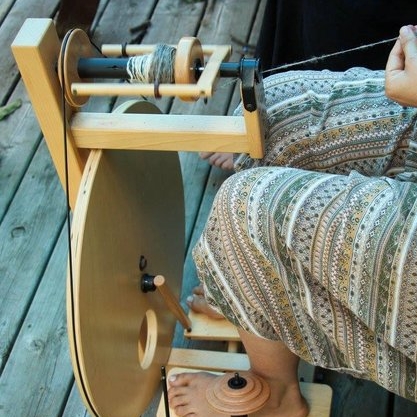 WITH BLAIR RICHARDS-KOESLAG

Learn the basics of spinning wool into yarn. Learn about wool and its preparation, from combing and carding, to felting. Make a Turkish drop spindle and practice spinning wool onto your spindle. No experience necessary. Beginners welcome.
WITH BLAIR RICHARDS-KOESLAG

Twelve years ago Blair happened upon a copy of Wild Fermentation, by Sandor Katz, and has been bubbling and brewing ever since. In this workshop, participants will learn how to collect wild yeast out of the air to create a local sourdough culture, make home made kombucha, saurkraut, kimchi, herbal beers and more... inspiring in you a fearless desire to play with culture!
WITH KAROLINE FARKAS

Hungarian folk dances are very specific to the regions they derive from. There are men's dances, women's dances, partner dances. Some bouncy, some not. The dances that Karoline teaches with Csángó Unchained, her Toronto band, come from a historical region in Romania known as Moldavia. Unlike most regions in Hungary where the dances are done in partners, Moldavian dances are mainly done in a circle. Each Moldavian dance is similar to the next, yet each has an aspect that makes it unique. Some jumping, some spinning, and a whole lot of stomping. Once you get the hang of it you don't want to stop!
WITH JOHANNA PAQUIN

Yoga is a union of body and breath. These sessions are designed for an ever-curious beginner and well-seasoned yoga folks alike. Please bring your mat, blanket/towel and an open mind. Morning and Afternoon sessions.
BODY PERCUSSION & VOCALIZING FOR KIDS (and those who are kids at heart)
WITH ANDREA KUZMICH

Drawing on her wealth of experience from running innovative music programs for 8 – 14 year olds at MusiCamp, Andrea will introduce participants in this workshop to cool rhythms that can be performed with the body and voice. This is a physically active music workshop, where layers and layers of rhythm are overlapped to make some serious groove. The singing component involves vocalizing rhythms as well as singing songs and riffs, sometimes in harmony. Participants will come out with a stronger sense of rhythm and the exceptional experience of creating music together.
WITH CASSIE NORTON, ELIZABETH LAPRELLE, ANDREA KUZMICH

Our summer camp will be offering a number of activities designed with younger people in mind, but with no age limit on participants. These activities include: pottery, body percussion & vocalizing, theatre and so much more.

All activities are flexible and will be guided by the interest of the participants.
WESTERN EUROPEAN DANCE
WITH ORIANE EDWARDS

Get moving and travel around Europe in this social dance workshop! Every day we will learn the basics from various European social folk dance traditions. This kind of dancing is non-performance oriented, and is open to people who have no experience dancing. We will learn Ukrainian village dances, Balkan 'kolo' line dances, energetic mixer dances and groovy couple dances from western Europe, plus Breton chain dances from the west coast of France. This class will be accompanied by live music! Attending this workshop will prepare you and give you a head start to the fun that will be had in our evening dances.