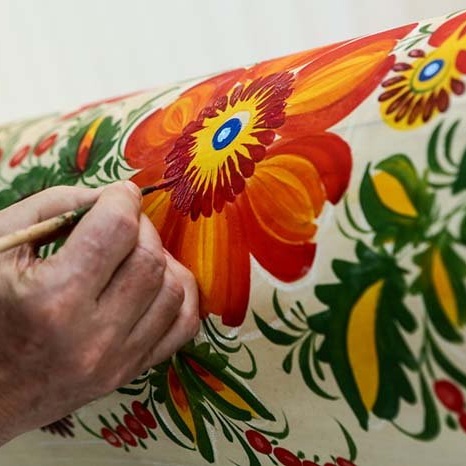 WITH OKSANA PIKUSH

Petrykivka is a traditional Ukrainian decorative style of folk painting named after the village it originated in, Petrykivka in central Ukraine (Dniporopetrovsk province). It was traditionally used to decorate village homes. Since houses were made of natural cob, and whitewashed, they provided a perfect surface for the cheerful and lively flowers and plant motifs distinctive to this style.

In this workshop, you will learn about the meaning, cultural significance and health benefits of authentic Petrykivka style folk painting, which has become a hallmark of Ukrainian culture around the world after being inscribed by UNESCO onto theRepresentative List of Intangible Cultural Heritage of Humanity.All ages. Children must be accompanied by an adult.
WITH SHELLEY THOMAS (NY)

Led by critically acclaimed vocalist and vocal coach Shelley Thomas, the Bulgarian Vocal Workshop will include in-depth instructions and demonstrations on advanced Balkan vocal technique. The workshop will focus on linguistic accuracy, harmonic blend, pitch precision, ornamentation, tambre, storytelling, stage presence, and improvisation.
Shelley will teach traditional diaphonic folk songs from various regions of Bulgaria, as well as harmonically complex repertoire from the rich Bulgarian choral tradition, made known by the famed national choir Le Mystère des Voix Bulgares.
Shelley has performed and studied intensively the folkloric songs of the Balkans for 14 years. She has traveled to Bulgaria and worked with many native speakers and teachers to master the techniques and stylistic nuances of Bulgarian singing.
INTRO. TO BUTTON ACCORDION
WITH JOHN DAVID WILLIAMS

A workshop for beginners: instruments provided and no experience necessary! Get started on playing the diatonic button accordion (AKA melodeon). The workshop will progress from how to hold the instrument to learning some simple folk melodies, and how to play chords to accompany other musicians or to accompany yourself singing.
WITH ADA DAHLI
Yoga is a union of body and breath. These sessions are designed for an ever-curious beginner and well-seasoned yoga folks alike. Please bring your mat, blanket/towel, (though the grass and earth are just as wonderful!) and an open mind. Morning and Afternoon sessions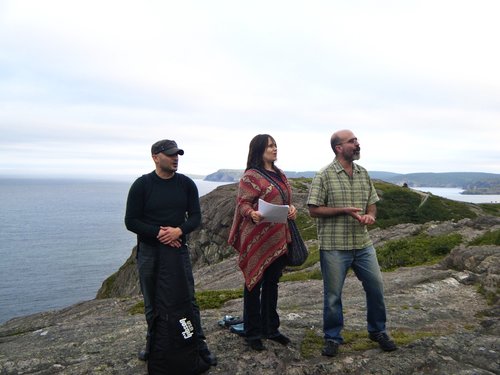 WITH ANDREA KUZMICH

In this workshop, songs from the millennia-old tradition, which vary in complexity and range from drinking and horse riding songs to meditative chants, will be chosen depending on skills of the workshop participants and the duration of the workshop. Songs will either be taught by rote and/or by lead-sheet. We will also explore and develop the specific vocal techniques used in Georgian songs. If time and willingness permit, some round dance movements may be incorporated into the songs. All songs taught will be contextualized with respect to Georgia's regional styles, genres, and historical narratives
WITH NATALKA BUCHOK

Learn how to make traditional breads and cakes, many of them using a sourdough starter (wild yeast used as rising agent). Eastern European sweet bread - kolach (aka challah bread), delicious dark rye that will have you running for sauerkraut and pickled herring, honey cake sweet with the nectar of bees, and then for the finale, the queen of all breads, the korovai - a festive wedding bread, decorated with ancient symbols of abundance and love.
WITH JURIJ FEDYNSKY & OLEH BUT

Oleh and Jurij play together in the Kryachkivka band they formed together, touring to spread the authentic musical sounds of Ukraine to the world, and educating the public about the traditional instruments and tunes of central Ukraine.
With Oleh on fiddle and Jurij on drum, they'll be leading participants in fun traditional folk dances of Ukraine, dances that originate in the countryside and represent the old culture of village people that is in most cases eroding and being lost. These dances are simple and suitable for beginners! Come join the fun.
FINNO-UGRIC MYTHOLOGY AND WORLD VIEW
WITH DALVA LAMMINMÄKI (FINLAND)

The Finno-Ugric peoples of Northeast Europe, North Asia and the Carpathian Basin who speak languages of the Finno-Ugric group, Finns, Karelians, Estonians, Hungarians, and several others, share an ancient past rooted in a common mythology and worldview. Dalva Lamminmaki, carrier of the myths and traditional teachings of Karelia & Finland will weave together her knowledge of this particular worldview, shamanic tradition, the Kalevala, and folk healing in this workshop. Be awash in story and sound, as you let the old ways of these people and the sound of their drum fall upon your ears.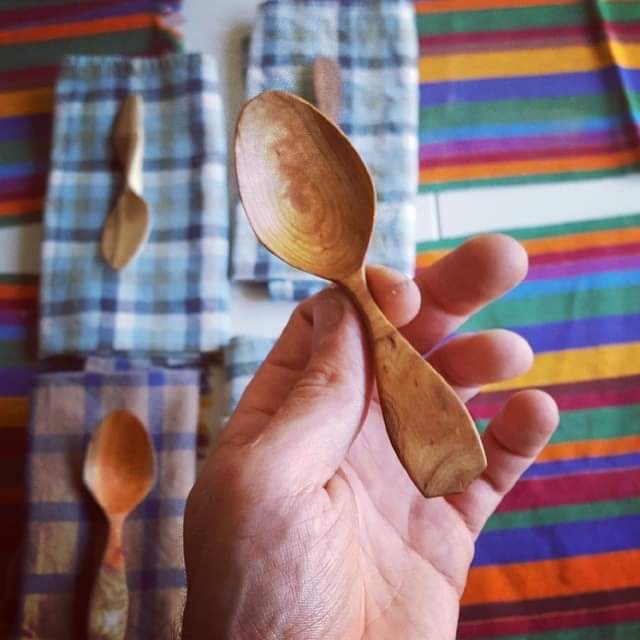 WITH JOHNNY SUDERMAN

If you've ever wanted to carve your own wooden spoon- this class is for you!

Class instructor, and generalist, Johnny Suderman believes in the magic of handmade spoons, and that this magic may just keep a spoon always in your pocket, on the ready! He has made an agreement with a golden birch and he will be bringing her to Folk Camp to work with and create many spoons, with any luck, in time for Friday's feast!

Using simple hand tools such as an axe, a saw and a knife, students will be guided through the process that is taking a log and removing everything that doesn't look like a spoon. The focus will be on carving a small strong spoon that will fit in your pocket, but the techniques are versatile and will leave students with the knowledge to bridge into spoons of all shapes and sizes, and things that aren't spoons at all!
WITH CASSIE NORTON, DIANA SCOTT, NATALIYA CHABANYUK

Our summer camp will be offering a number of activities designed with younger people in mind, but with no age limit on participants. These activities include: pottery, body percussion & vocalizing, theatre and so much more.

All activities are flexible and will be guided by the interest of the participants.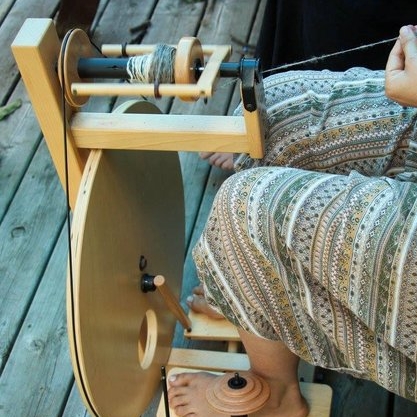 WITH JOHANNA KOESLAG

Learn the basics of spinning wool into yarn. Learn about wool and its preparation, from combing and carding, to felting. You'll be guided in spinning on a wheel, but drop spindles are also available. No experience necessary. Beginners welcome.
WITH ROK

Delve in to a week-long learning experience in the art of reshaping metal with fire, hammer and an anvil. Forging is an ancient art form and craft that combines all four elements that results in creating a structural and artistic items solely limited to one's imagination.
KALEVALA: FINNISH BALLAD SINGING
WITH MATTI PALONEN

The workshop participants will learn to sing and play the kantele in the Kalevala tradition, focusing on songs collected between 1850 and 1925. Participants will gain an understanding of poetic devices unique to the structure of the Finnic languages, as well as the importance of improvisation, and the influence of surrounding Slavic traditions. Lyric sheets and some kanteles will be available. For this year, I will include material from north and south Karelia learned from Emmi Kuittinen.
*APPRENTICESHIP
As an apprentice, you'll be committed to focusing on one particular craft by serving as an assistant to the craftsperson teaching that craft.